El Grito de Sunset Park Use Case
WHY DO THIS?
DEFINING your project is a key part of the pre-planning phase of any video curation project and is a crucial step in the information-gathering process. The goal is to dig deep into the details of what challenge your initiative is trying to solve. Scope and depth of research and inquiry will vary from project to project, but the results are the same — valuable and usable data.
The more information you gather, interpret, and document, the more prepared you will be to create a process, tool, prototype or product that provides a valuable solution that meets an unmet need.
Through a series of "discovery" meetings with El Grito and other stakeholders, we collectively:
defined the problem we were solving for
concisely described the needs this project would be addressing
researched related police abuse projects
interviewed subject matter experts including journalists, attorneys, data scientists, and other copwatch project leads
assessed potential personal and organizational security and legal risks
Defining the El Grito Project
DESCRIBING THE NEED
IMMEDIATE CHALLENGES: El Grito had thousands of videos from 18 years of documenting police abuse, stored on various media and devices. Knowledge about the content and encounters with the police are stored in the brains of a few people.
STORIES WE WANT TO TELL: Police abuse is happening in Sunset Park with impunity. These incidents are not isolated to a few officers and the NYPD is complicit in the ongoing abuse.
GAP WE'RE FILLING, OPPORTUNITY WE'RE CREATING:  El Grito's video content in aggregate showed a more powerful story than a single video. This collection of videos points to patterns of discrimination and abuse inflicted by the NYPD for over 18 years.
Because laws in New York State make it nearly impossible for the public, this project helps address a glaring information gap and can strengthen advocacy efforts around transparency and accountability.
Creating examples and practices to glean data and stories from video collections would be invaluable to many constituencies exposing human rights abuse, including: journalists, attorneys, archivists, educators, funders, activists and advocacy organizations.
RESOURCE SAVINGS / CREATING EFFICIENCIES: Finding low to no cost solutions for aggregating, digitizing (as needed) and cataloguing El Grito's videos.
Problem Statement: Illustrated way to share what challenges our project would be addressing.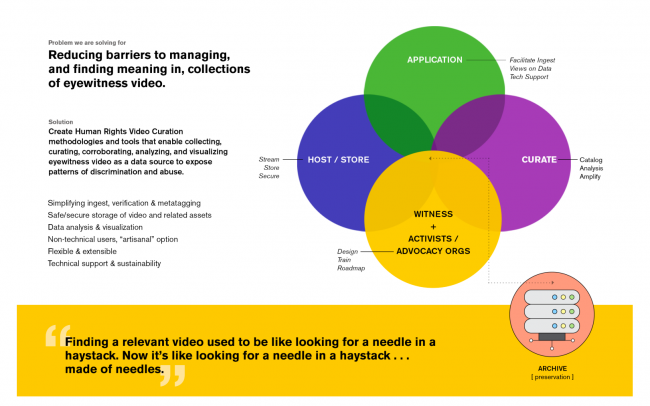 Concise, visual representations of the problem you are solving for is an ideal way to help message project objectives to potential partners and advisors and act as touchstone as you scope each phase of your projects. 
HOW WE CREATED THIS DOCUMENT
LANDSCAPE & GAP ANALYSIS
After initial "discovery" sessions with the El Grito team, we reached out to journalists, data scientists, attorneys, legal services organizations, as well as other copwatch groups and advocacy organizations that had already created police abuse incident tracking projects or were in various phase of design or development.
Biggest takeaways were:
there are other project tracking data about policing, but none are currently using video, nor are their systems considering videos as assets
there can never be a one-size-fits all solution, each organization has location specific needs (e.g., legal, political, security, etc.) that can't be shoe-horned into a single platform
spend time with the video content to design taxonomies and meta-tagging schemas. Extensive data design sessions up front are labor intensive and not as effective. Your schemas should be dynamic.
safely storing content in a way that maintains privacy of contributors a priority; video assets compound that challenge
verification and metatagging is labor intensive and the most expensive part of all projects
TECHNOLOGY DEVELOPMENT: Should you do it? 
The scope of this project did not include technical development. We did analyze and test existing platforms, such as Ushahidi, and designed an interactive prototype in WordPress. And, we've documented ideas for development next steps. There are universal needs for automation and creation of data standards that warrant further exploration. Below are some guiding questions to consider before embarking on a tech development project.
DOES IT ALREADY EXIST?
If your project is designed to be a technology innovation, remember your cutting edge idea of a couple of months ago, could be old news tomorrow. The most important thing about problem solving that includes technology, is first assuring that there is a need. If someone or some organization is already doing something similar — consider partnering. If there is an existing technology you can configure or leverage in some way, do that rest.
IS IT SUSTAINABLE?
A significant cost when creating new technical solutions, whether it is hardware or software, is not just developing, but in sustaining that solution. Hopefully, your brilliant idea fills a pressing need and no one has a good plan to implement it. The best/worst thing that can happen is that it becomes widely embraced and users come to depend on it.
WHO WILL USE IT?
Unless you are an experienced software or hardware development organization, — with the resources to launch, distribute, train, provide support to end users, and evolve your solution to keep pace with the light speed churn of hardware and software evolution, or just keeping pace with fickle end user loyalties, supporting your constituencies — you, are setting yourself up for failure. Launching applications that don't function as advertised, or are unstable can have real negative impact on the reputation of your organization. Another big challenge to overcome will be making users aware of your initiatives as well as getting users to adopt your solution. A new app, or site that requires users to change their digital habits can have a rough go of it being widely adopted. Stick with your strengths, form coalitions, partner.
If software or hardware development is the only solution, and if you aren't scared yet — more power to you!
Proposed Content Flow Map: Curation Platform Sketch
Content maps provide the opportunity for everyone involved in the production process to share their visions and ideas for the solution. Visualizing ideas is a very effective way to have all project collaborators participate in the design of the solution, regardless of their role.  This fully imagined solution guided us through discussions of not only functional priorities for El Grito, but identified solutions and challenges for security, accessibility, sustainability and development resources.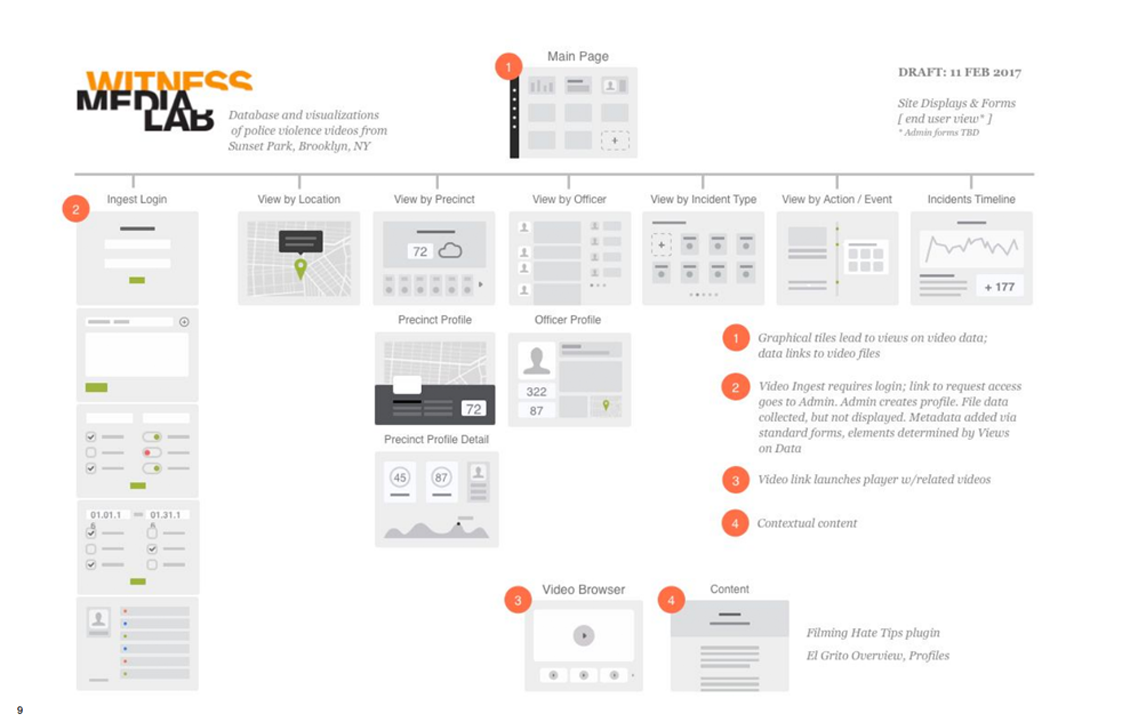 HOW WE CREATED THIS DOCUMENT
FEEDBACK & INSIGHTS from OTHER POLICE ABUSE TRACKING PROJECTS
LEGAL AID SOCIETY
Human Rights Data Analysis Group (HRDAG), Patrick Ball
OPEN POLICE COMPLAINTS
Benetech
syrian archive
Engine Room, Alix Dunn
Berkeley Copwatch
Security Force Monitor, Tony Wilson