STORYTELLING with VIDEO COLLECTIONS
OVERVIEW
IN THIS SECTION, YOU WILL LEARN:
Why what it looks like matters
Finding & visualizing key data points
Methodology for designing the Officer Profile
Creative approaches to storytelling with video collections
WHY DO THIS? 
VISUALS ARE IMPORTANT BECAUSE:
Poorly presented information may further marginalize underreported stories

Visual practices enable collaboration and speed development processes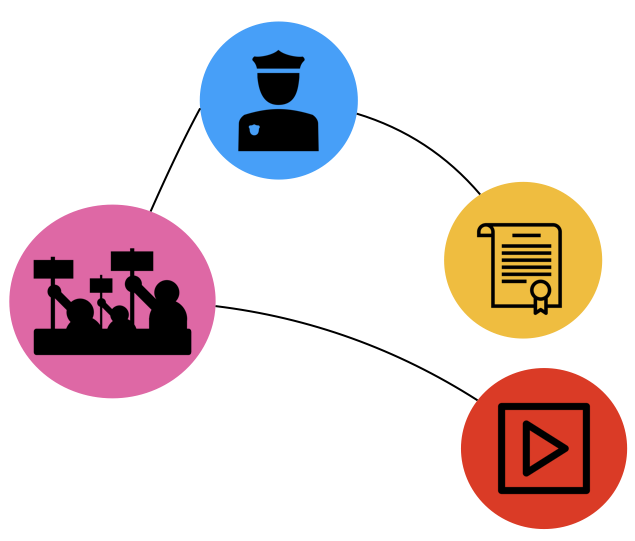 ---
INTRODUCTION
In the following sections you can learn how we approached visual storytelling for this project, explore the sample officer profile we created, or see other examples of how people have creatively used video collections for advocacy and evidence around the world.
One of our objectives with this project was to explore ways to tell the story of police abuse with eyewitness video in an impactful and innovative way. We believe that safely and ethically recording human rights offenses is powerful way to expose abuse and affect change.
But, as we've seen with Tamir Rice, Walter Scott, Terence Crutcher, Philando Castile and so many others — the videos often are diminished or dismissed by a narrative painting another black man as aggressive and responsible for causing his own death. Even with video evidence that contradicts institutional narratives, cops aren't being charged and departments aren't changing their practices. It's the narrative that often controls the outcome.
As we logged our sample of videos from El Grito we saw a handful of officers repeatedly engaging in violent confrontations with the people of Sunset Park. But, we wanted to be clear that conversations that suggests excessive force, physical abuse, and targeted harassment as being meted out by just a few bad apples and actors — is deceptive. We profiled one officer as an example of how to visually connect the dots around repeated incidents of misconduct, lack of disciplinary measures and salary increases over time.  
The videos we analyzed have been public for years. El Grito has engaged elected officials, NYPD police leadership, activated the community and appealed to the media directly to show the historical and ongoing police violence in the neighborhood. Despite video content, community opposition to broken windows policies, and ongoing legal cases against these officers — NYPD and NYC elected officials have done little to change the policies and practices that encourage confrontation and abusive behavior.
It was not our objective to build legal cases against these particular officers, but rather to prototype a platform with which the community could continue to gather information, verify, and tell their own story. Simply, reclaim the narrative.